Commercial and Residential Stucco and Plaster for the Bay Area
EIFS
EIFS is a foam applied Stucco system by Dryvit. The finished look is the same as traditional stucco. It is mainly used in Commercial applications such as the Napa Town Center shown below. We are Certified EIFS installers by Dryvit Corporation, and we do EIFS jobs around the entire San Francisco Bay Area.  Let us bid your next EIFS job!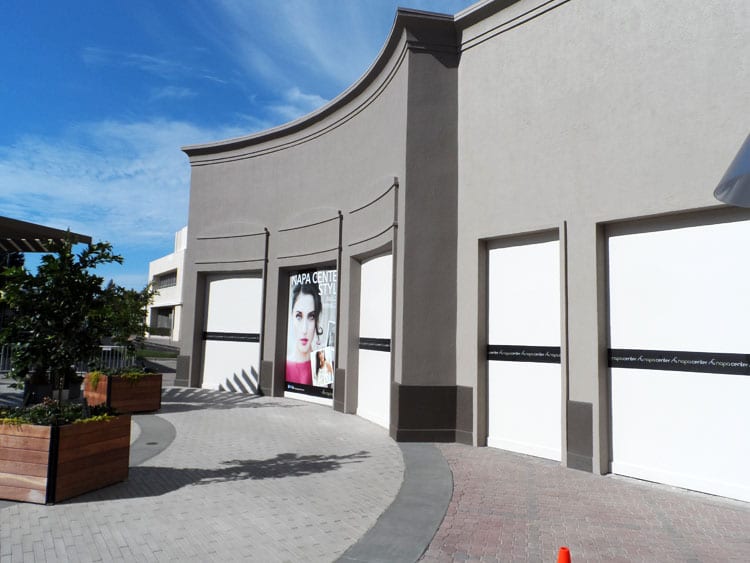 Backstop NT
Backstop NT is a flexible, polymer- based, noncementitious, air/water- resistive barrier, which resists water penetration, eliminates air infiltration, and is vapor permeable. It is classified as a Class III vapor retarder over vertical above grade walls.
Backstop NT – Texture, Smooth and Spray are designed for use with Dryvit EIF Systems as well as other building cladding systems. When used with the Dryvit AquaFlash® System or Dryvit Flashing TapeTM, Backstop NT provides an effective air barrier and water-resistive membrane for acceptable substrates.
Reinforcing Mesh
Specially woven and treated glass fiber mesh is used with Dryvit base coats to provide strength and impact resistance. Strength and durability are a direct result of the weight of the mesh specified.
When embedded in the Dryvit base coat mixture, the glass fiber reinforcing mesh provides continuity of surface to resist cracking and to increase impact resistance.